It's the perfect time to stock up for the holiday season and the perfect place is the JOGS Palm Springs Show! We'll be in Palm Springs October 21-24, 2021 with everything you need to fill your shop for the winter.
General information
10:00 AM - 5:00 PM Daily
10:00 AM - 4:00 PM on the last day
Wholesale ONLY Show
Register today and print your badges online - you only have to register once with JOGS and you'll be able to access your account for all upcoming shows.
WHAT TO EXPECT IN PALM SPRINGS
NEW MEXICO HANDMADE
We have new works coming in every day from our local Native American artisans in New Mexico! We'll be bringing our artist's latest finished pieces to Palm Springs.
Turquoise & sterling at every price point, featuring American Turquoise mines like Royston, Lone Mountain, Carico Lake and Sleeping Beauty as well as your favorite collectible turquoises from around the world. Prince Turquoise continues to be a huge favorite, and we will be showing finished jewelry in Golden Hills Turquoise, as well as the various Sonoran Turquoises.
Holiday shoppers come in all sizes and we'll have a selection of budget friendly turquoise jewelry, Sunwest Jewelry, stamped concho belts, liquid silver and beaded jewelry for the whole family.
We'll have cluster rings, chandelier and Southwestern style turquoise and silver earrings, men's jewelry including bolos, buckles, conchos and cuffs, and the latest in lariat style necklaces for the fashionistas in the crowd.
Traditional legacy Jewelry will include high-end squash blossom necklaces, sets, and fabulous one-of-a-kinds for him or her by recognized Native American silversmiths.
TURQUOISE for lapidary artists & manufacturers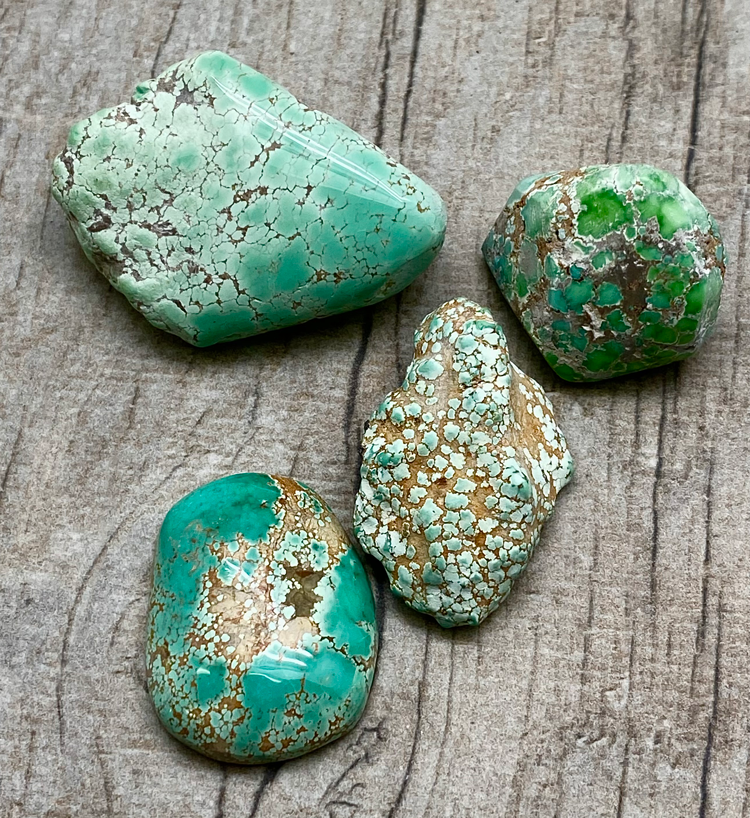 Carico Lake Turquoise, Nevada
Our latest mine runs will be in Palm Springs with a wide selection of calibrated cabs, freeform cabs, beads and strands. There will be specimens!
Pictured here is a sampling of Carico Lake Turquoise, our signature mine in Nevada. Carico Lake grows in an astonishing range of green & blue turquoise. We love our American mines!
We'll also be supplying lapidary stone like White Buffalo, Spiny Oyster Shell and other favorites of silversmiths and lapidary artists.
Prince Turquoise, Golden Hills Turquoise & Sonoran Turquoises will be available at the Palm Springs show. These turquoises have been trending non-stop in finished jewelry and are hard natural stones, much favored by lapidary artists and jewelry makers.
Contact us if you have any questions, we'd love to hear from you.
1-800-771-3781 or Info@SunwestSilver.com