We are happy to announce that we will be hosting an exhibit at this years Cowtown Christmas in the Stockyards. Each year during the National Finals Rodeo, the Stockyards in Fort Worth, TX plays host to different forms of cowboy and Christmas themed shopping and entertainment. Sunwest will be bringing our unique styles of Handmade Native American Jewelry to add to the cowboy Christmas atmosphere.
Sunwest would typically be in Las Vegas this time of year, attending the Roper Cowboy Marketplace. Due to COVID-19 and subsequent schedule changes, Sunwest has decided to attend the show in Fort Worth this year, and we are excited to be part of the experience.
To add another layer of excitement, the National Finals Rodeo will be hosted in Arlington, TX this year, just a short 30 minute drive from Fort Worth.
Come visit us this year at Cowtown Christmas in the Stockyards! Look below for more show information.
Show Information
Retail Show - Open to the Public!
Dec 3 - Dec 12, 2020
BOOTH #710
Cowtown Christmas in the Stockyards
Stockyards Station @ Fort Worth Stockyards
140 E Exchange Ave
Fort Worth, Tx 76164
Finding us at the Stockyards:
We're in the Stampede Room, southeast end of the Station, past the railroad tracks.
What Will We Be Bringing?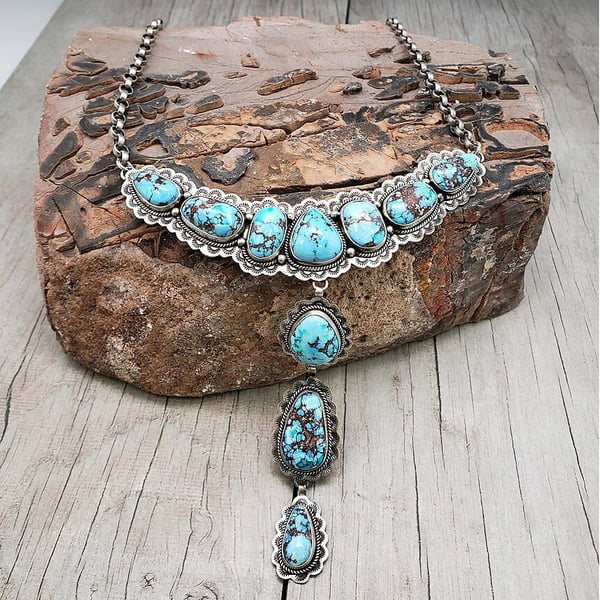 Sunwest Silver will be bringing some of our most popular turquoise jewelry for attendees to enjoy. This includes our large collection of Golden Hills turquoise (featured above). Golden Hills is one of our more popular types of turquoise, with lavender blush tones over a beautiful range of blues with a deep burnt cinnamon colored matrix.
Along with Golden Hills turquoise, we'll be bringing all the most popular styles & stones from the finest New Mexico artisans & Native American jewelry artists. This will also include Sonoran Gold Turquoise and Spiny Oyster Shell & more.
Can't Make It To Texas?


We understand that 2020 has been a bit unpredictable for many of our wholesale clients. Traveling during this time may be something that you are trying to avoid. For those of you that have decided not to attend Cowtown Christmas this year, we will miss you, but you can still find great pricing on several of our products in our online store. Continue reading below for more information:
Native american handmade Jewelry Online



Our online store at sunwesthandmade.com features a large variety of handmade Native American jewelry. Featured in the image above is a cuff made by artist Andy Cadman, featuring Sonoran Mountain turquoise. For more items like this, please visit the link below: