Sunwest will be in Dallas for the wholesale Apparel & Accessories Market in June! Discover new works by New Mexico's Native American silversmiths, restock and shop new Sunwest Jewelry lines.

GENERAL SHOW INFO
Tuesday - Friday
8:30AM - 6:00PM
Close at 3PM on Friday
Wholesale Only!
Business Application & Qualifying Documents
New Buyer FAQ
What to expect in dallas


best sellers & New styles
There are definitive customer favorites making a statement in the Southwest! Tassle jewelry in a variety of styles has been flying off the shelves. Combinations of turquoise & sterling, OxyBeads©, handmade necklaces and beaded styles are layering naturals and stand alone perfection. Lariat style necklaces continue to grow in popularity and we have new turquoise, White Buffalo and sterling beaded necklaces from local New Mexico silversmiths to choose from.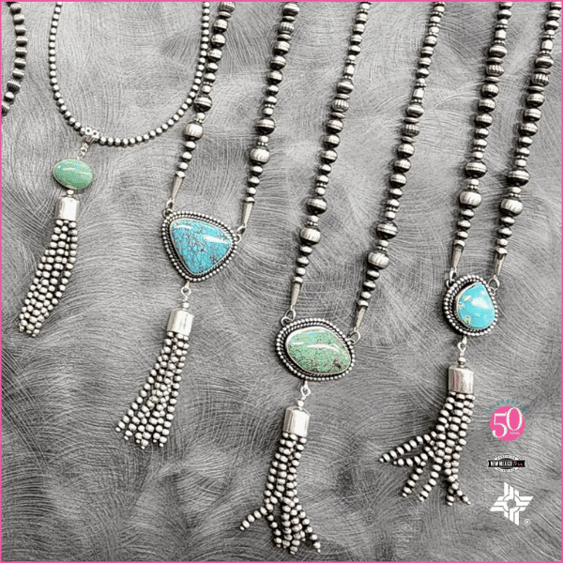 Our Sunwest Jewelry lines evolve with demand and our sterling silver OxyBead© Collection is a finished or customized line for wholesale shoppers that includes sterling silver necklaces, earrings and bracelets created at our location in Albuquerque, New Mexico. One of our most loved, staple products, shoppers buy OxyBeads© combined with turquoise, shell, stone or alone, layering with multiple strands or simple singles. The striking contrast of the oxidized Sterling Silver with polished Sterling is a traditional and well-loved look in the Southwest.
turquoise & sterling
We love turquoise. It's our passion and the heart of our business. We take pride in providing the industry with genuine, collectible and trending turquoise from legendary North American mines and from around the world.
We carry finished jewelry in all the favorite Southwest style companion stones including Spiny Oyster Shell jewelry, White Buffalo, Rhodochrosite, Wild Horse, Mother of Pearl and more.

Turquoise Trends!
Clear trends continue as interest in turquoise, handmade and Southwestern style jewelry grows. Prince Turquoise, Golden Hills Turquoise and the Sonoran turquoises continue dominate as Santa Fe style favorites. We'll also have handmade Southwestern style finished jewelry in all the collectible North American mines like Kingman, Tyrone, Carico, Royston and more. Featured Above: Sonoran Gold, Golden Hills & Prince Turquoise Jewelry.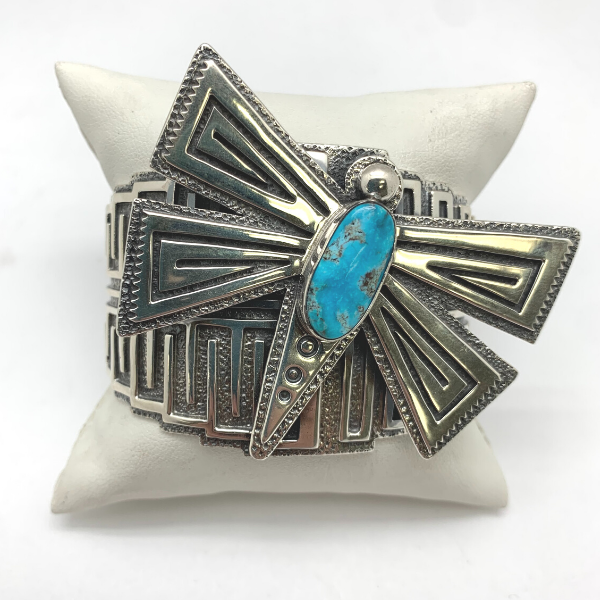 NEW MEXICO SILVERSMITHS
We've been working with the best artists in New Mexico for the last 50 years. The traditions handed down by Native American families continue to provide the world with unrivalled craftsmanship, style and beauty.
New Mexico is home to artists and silversmiths with deep connections to the Southwest. In Dallas, we'll be introducing you to some up-and-coming local artists who may be new to you, and we're well stocked with your collectors favorites like Vincent Platero, Darrell Livingston, Etta Linkin, Paul Livingston, Tawney Willie and more.
Contemporary Native American jewelry is enjoying a potent surge and the works of our established artists are truly an eloquent blend of vision, cultural tradition and talent. Featured above: Charles Johnson, Navajo

Contact Us
(800) 771-3781
Info@SunwestSilver.com
Sunwest Silver Co Inc- Albuquerque
324 Lomas Blvd., NW
Albuquerque, NM 87102