The descent to Tucson, Arizona is upon Sunwest Silver as we are days away from the leading gem show in North America. It's Tucson Time! JOGS Tucson Gem and Jewelry Show brings approximately 40,000 visitors to the Tucson region annually. If you happen to be one of the tens of thousands of visitors from around the world attending the show, we here at Sunwest Silver Co Inc want to give you a warm welcome!
General information
Jan 30- Feb 16, 2020
KINO Gem & Mineral Show
Kino Sports Complex
2500 E Ajo Way
Tucson, Arizona 85713
January 30 - February 16: 10 a.m. - 6 p.m.
February 16: 10 a.m. - 4 p.m.
Jan 30- Feb 10, 2020
JOGS Main Ballroom
Tucson Expo Center
3750 E. Irvington Rd.
Tucson, AZ 85714
WELCOME TO SUNWEST SILVER CO INC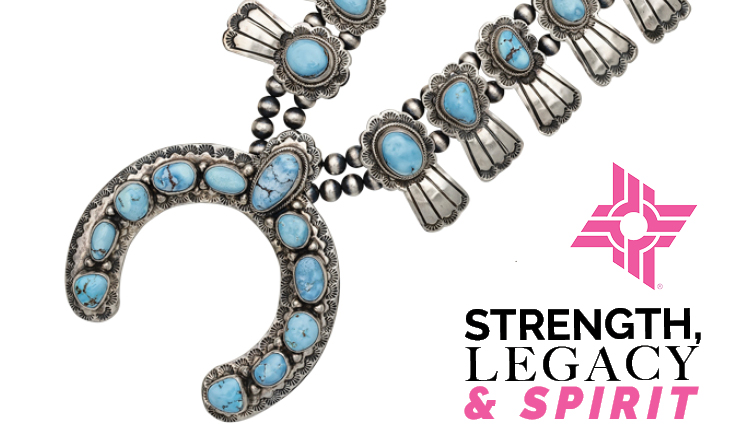 Sunwest Silver Co Inc is the industry's leading source for North American turquoise, and lapidary quality turquoise & stone from around the world, sterling silver charms & findings, and finished handmade jewelry created by the Southwest's finest Native American artisans. We have custom beaded jewelry lines, Liquid Silver jewelry lines, OxyBead© jewelry, and plenty more!
Sunwest Silver Co Inc- Albuquerque
(800) 771-3781
WHAT WE ARE BRINGING TO tucson gem show
NATIVE AMERICAN HANDMADE JEWElRY
Shop the newest pieces from our extensive collection of handmade Native American jewelry. For over 35 years, we have fostered close relationships with local Native artists that allow us to showcase an unrivaled selection of handmade Southwest style jewelry from New Mexico.
Register as a wholesale shopper on our Sunwest Handmade website and browse for a sampling of what we offer at JOGS!
Turquoise from around the world

We specialize in North American turquoise like Nevada's Carico Lake Turquoise from our mines, and we carry a large collection of lapidary turquoise from around the world. Some of our most popular imported turquoises that will be available at JOGS this year are Egyptian, Sonoran, and Golden Hills .
We sell turquoise cabs, rough & beads as well as other lapidary stone in small lots auction-style on Instagram for jewelry makers & artisans to sample. Check out our page for a peek at what you can expect to find at JOGS in bulk or small parcels.
LIQUID SILVER JEWELRY LINES
Explore options with Liquid Silver jewelry! Liquid Silver is a Southwest-style accessory that never goes out of style. Sunwest Silver hosts a variety of different Liquid Silver creations, from traditional woven pieces to more modern and eclectic designs. Our Liquid Silver Tower Program offers includes counter-top or freestanding displays for your store, loaded with your choice of two jewelry style packages or customized options for your brand.
If you are not going to be in Tucson, contact Pam at PGautreau@sunwestsilver.com for more information or browse some of our popular liquid silver jewelry online.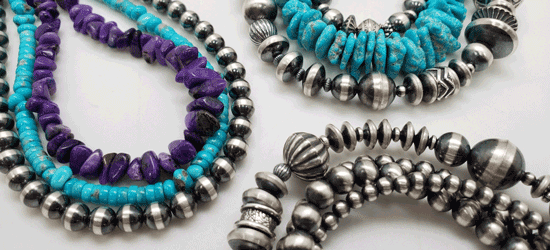 Our Sterling Silver OxyBead© Collection is a finished or customized line for wholesale shoppers. Southwestern fashionistas love OxyBeads© with turquoise, shell, stone or alone, layering with multiple strands or simple singles. The striking contrast of the oxidized Sterling Silver with polished Sterling is a traditional and well-loved look in the Southwest.
Shop our sampling of OxyBead© Jewelry on Sunwest Handmade.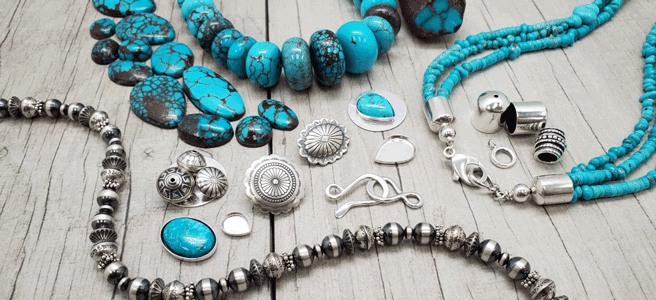 Sunwest Silver Co has been providing jewelry makers with Made in the USA sterling silver charms and findings for 46 years. We have over 5,000 styles of artisan created charms for memory makers & jewelry makers alike. Our jewelry findings selection offers a complete selection of unique styles for your creations.
You can browse a selection of charms & findings online at Sunwest Charms for an idea of what you can expect to see in Tucson.