California, here we come! Sunwest will be in Palm Springs for the wholesale JOGS Gem & Jewelry Show at the Palm Springs Convention Center this November. Our inventory is flush with new styles by local Native American silversmiths and we'll have our Sunwest Jewelry lines with new & favorite styles.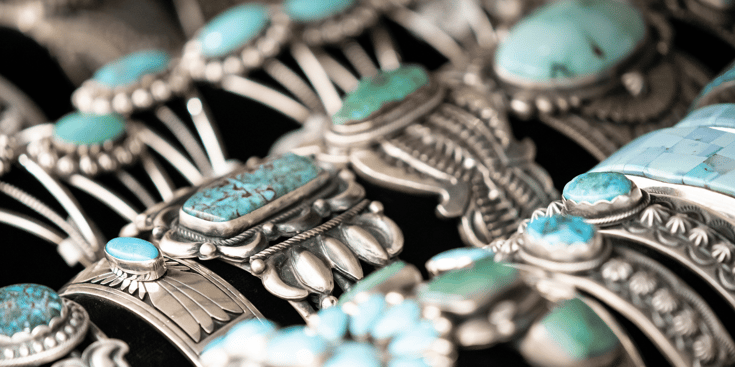 GENERAL SHOW INFO
Booth 1402

277 N Avenida Caballeros, Palm Springs, CA 92262
10:00 AM – 6:00 PM
Last Day 10:00 AM – 4:00 PM

Wholesale Shoppers
Business/resale License or tax ID certificate, Printed badges, business card, Photo ID, proof of buying in the Gem & Jewelry industry. Guest Tickets available.
Online Registration & Guest Tickets

WHAT TO EXPECT IN PALM SPRINGS
We'll have a full range of finished, handamde jewelry, Sunwest Jewelry lines and lapidary supply for makers & manufacturers with us in Palm Springs. Turquoise has been traveling the distance to come in from the mines, and we're also bringing lapidary stone, shell and Southwestern favorite accent stones.

BEST SELLERS IN TURQUOISE & STERLING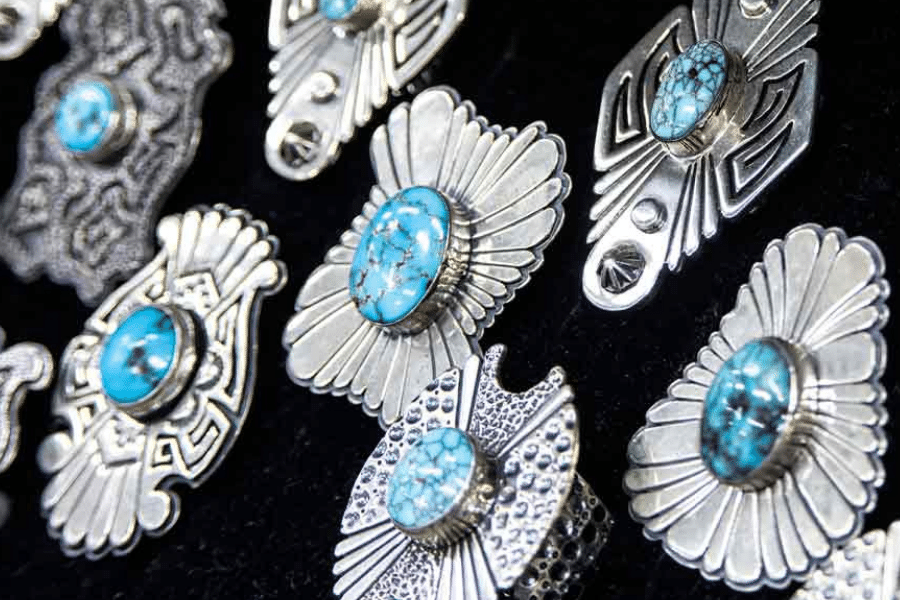 Prince Turquoise Rings

Prince Turquoise with it's bold blues and burnt umber matrix continues to be a huge favorite. Shoppers and silversmiths alike love the bright hues, hard stone and historical significance of this beautiful turquoise from the original mines in the Sinai Penninsula.

Unique handmade jewelry styles and traditional favorites including cluster jewelry, lariats, bolos and conchos featuring Prince Turquoise will be available to shop at our booth in Palm Springs.
We'll also have Prince Turquoise strands, cabs & rough for jewelry makers. Prince is a wonderful hard, workable stone that takes a great polish and has a range of intense color and matrix, making each stone an individual treasure.
GOLDEN HILLS TURQUOISE JEWELRY


Golden HIlls Turquoise Jewelry
One-of-a-kind turquoise couture! Shop show specials for the holidays including Squash Blossom necklaces, intricate lariat and cluster styles and collectible strands. Golden Hills Turquoise continues to be on trend and we are fully stocked with styles in every price point in men's and women's jewelry, conchos, bolos, earrings & more!
HAND-STRUNG SOUTHWEST STYLE JEWELRY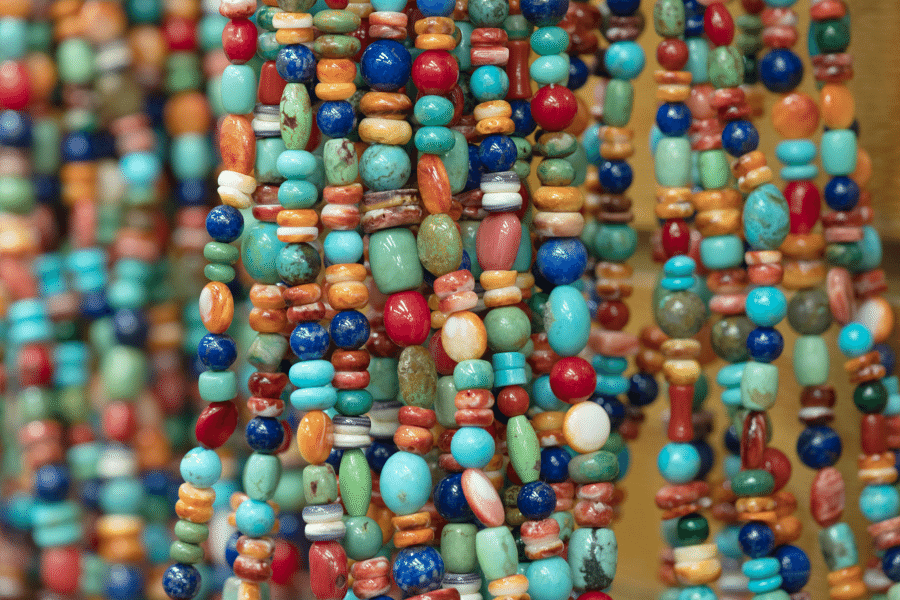 Santa Fe Syle
Our hand-strung line of multi-color Southwestern turquoise & stone jewelry featured above is a created by Sunwest at our Albquerque location. This well-established line is a staple favorite and we'll have our latest styles available in Palm Springs. You'll also be able to stock up on OxyBead© Jewelry, a complete line of necklaces, earrings and bracelets, our stamped nickle concho belts, liquid silver and Sunwest turquoise beaded jewelry lines.
IT'S ALL ABOUT THE TURQUOISE
Contact us if you have any questions!
(800) 771-3781 or Info@SunwestSilver.com
Sunwest Silver Co Inc- Albuquerque
324 Lomas Blvd., NW
Albuquerque, NM 87102