ROPER COWBOY MARKETPLACE is a free & open to the public show that takes place once a year Las Vegas, Nevada during the Wrangler National Finals Rodeo. What's not to love!

Shop holiday collectibles, stocking stuffers, gifts for loved ones or that something special you've been waiting for. We'll have a full selection of handmade Native American jewelry, including turquoise buckles, conchos, squash blossom necklaces and sterling beaded jewelry by Sunwest.
GENERAL INFORMATION
Dec 5 - Dec 14, 2019
Booth #311
10am - 5pm daily
3950 S Las Vegas Blvd
Las Vegas, NV 89119


Free and open to the public.
Wholesale and retail customers welcome!
Tax ID required for Wholesale Purchases
Here is a sampling of what you can expect to shop at the show:
SQUASH BLOSSOM SETS
Always a favorite! Shop a selection of traditional techniques and styles or contemporary artistry, by New Mexico's local favorites in North American Turquoise and turquoises from around the world. This iconic Navajo necklace style often incorporates round beads, coins or crosses and these elements can still be found in variations of the famous Squash Blossom. We'll be bringing a variety of styles to Las Vegas for Roper Cowboy Marketplace.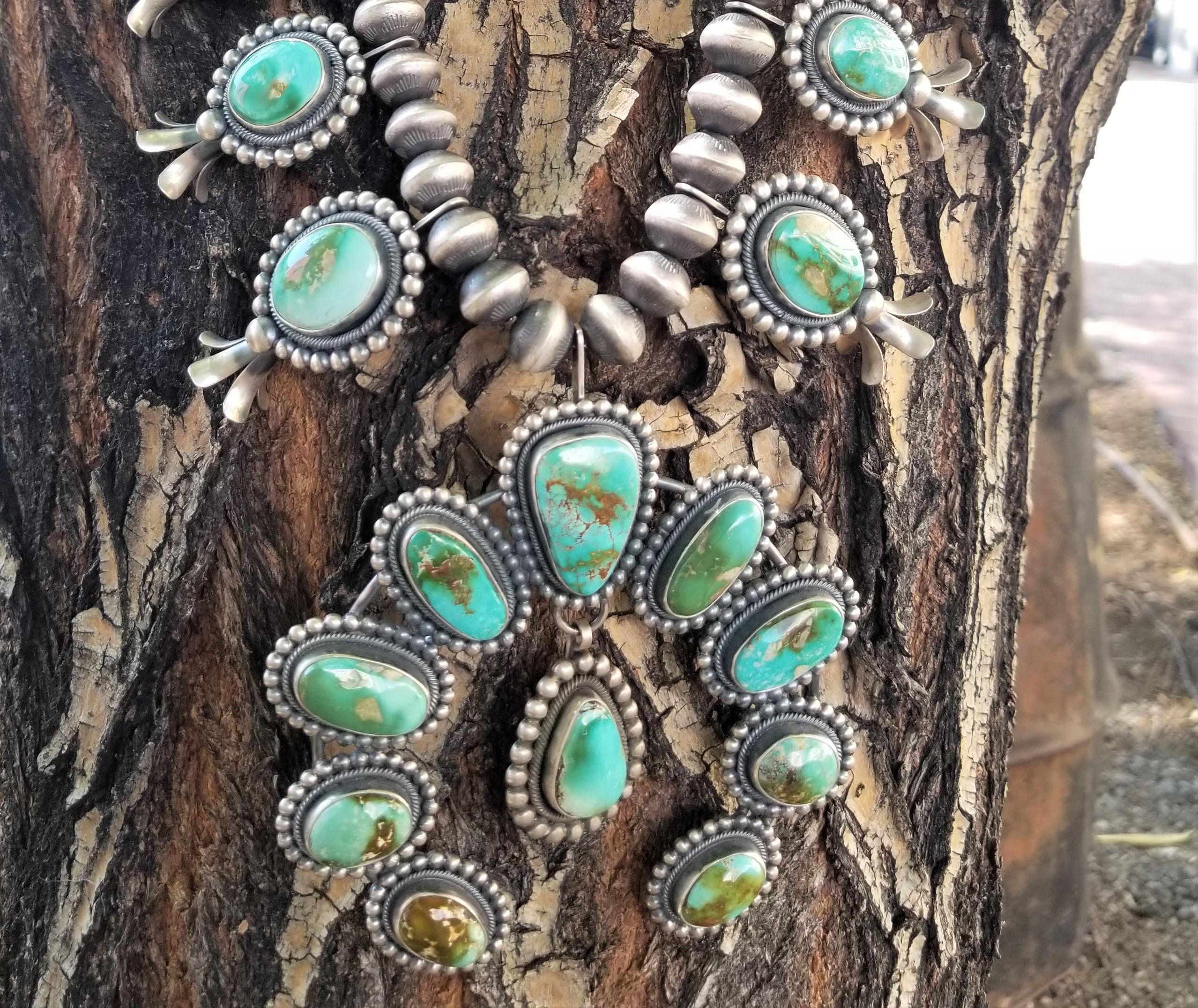 . royston turquoise squash blossom necklace
◊◊◊


Stocking stuffers
Santa couldn't do better himself! Shop our huge selection of Native American handmade jewelry in turquoise, shell, coral and other complementary Southwest favorites like sugilite, gaspeite and White Buffalo stone. We work daily with the talented Native American silversmiths of New Mexico and we'll be bringing new work from your favorite Land of Enchantment artisans like Paul Livingston, Philander Begay, Vincent Platero and other established and emerging jewelry artists. There's something for every budget and every style.
HOLIDAY GLOW! PINK MUSSEL SHELL BY BURT FRANSISCO
◊◊◊

COLLECTIBLE JEWELRY
We'll be showing the latest works from collectible Southwestern artisans, like this dramatic cuff by Diné silversmith Philander Begay. Tufa casting is a traditional Navajo silversmithing technique, done by pouring molten metal into a mold made of the compressed volcanic ash found on Navajo lands. The Pueblo tribes all create cast jewelry, but the Navajo were the first to do so in the 1800's, and tufa cast jewelry has legendary appeal in the Southwest. Tufa molds will lend a unique texture and sheen to the finished piece, making it uniquely identifiable. It is a complex and difficult process, resulting in a collectible, one-of-a-kind piece of art ready for that special someone or to add to your personal collection!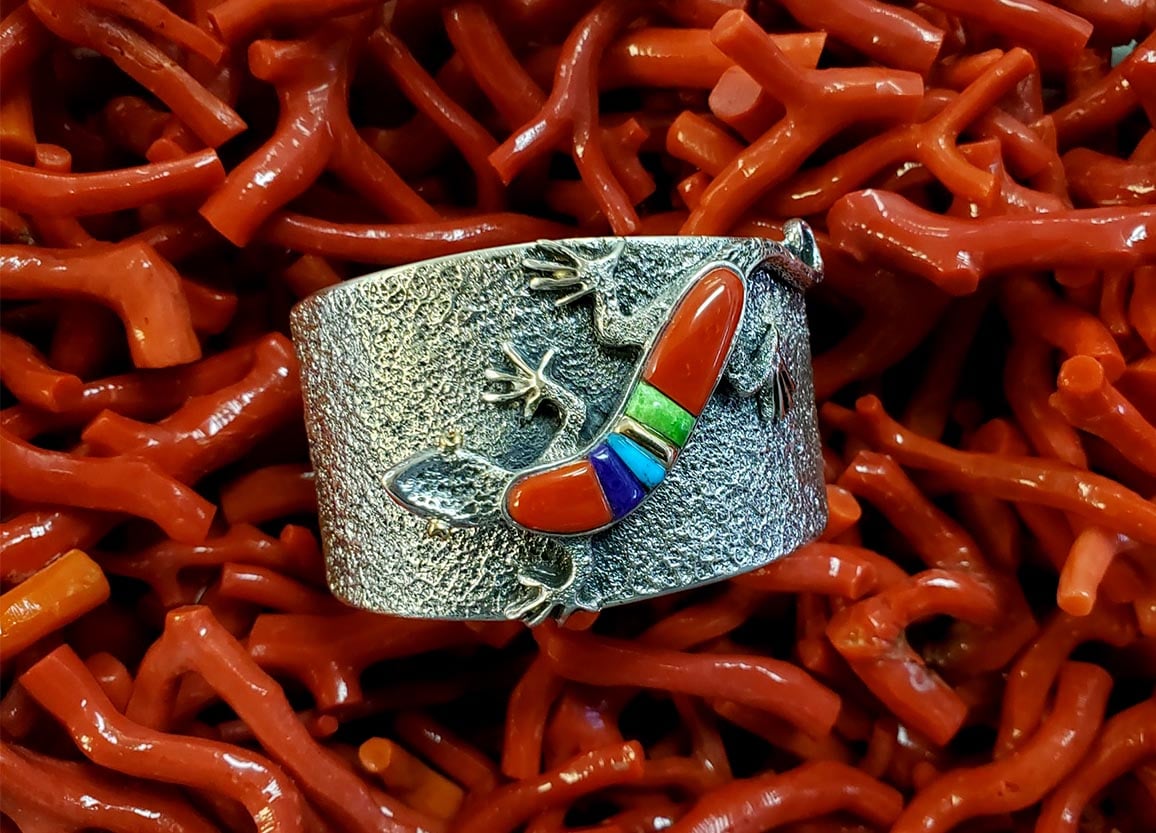 Tufa Cast by Philander Begay
◊◊◊

SONORAN GOLD
Holiday shades of Turquoise! At Sunwest we're All About The Turquoise and Sonoran Gold Turquoise from Mexico is a hot new favorite in the Southwest. We'll be showing off new styles you are going to love including contemporary lariat style necklaces. traditional squash blossoms, and plenty of His or Hers choices. Vibrant greens and blues with astonishing color range is a signature of this delightful stone.
SONORAN GOLD TURQUOISE CUFFS BY DARRIN LIVINGSTON
◊◊◊

RODEO AT HEART? CONCHOS, BELTS, BoLOS, & BUCKLES
Shop buckles, bolos, ranger sets and concho belts made just for that special guy. Or gal! Unisex styles are trending in the Southwest, and she might just take that handsome bolo off your hands for you! Sterling conchos, stamped conchos and conchos with collectible turquoise will all be available in Vegas! We'll see you at Mandalay Resort and Casino in booth #311!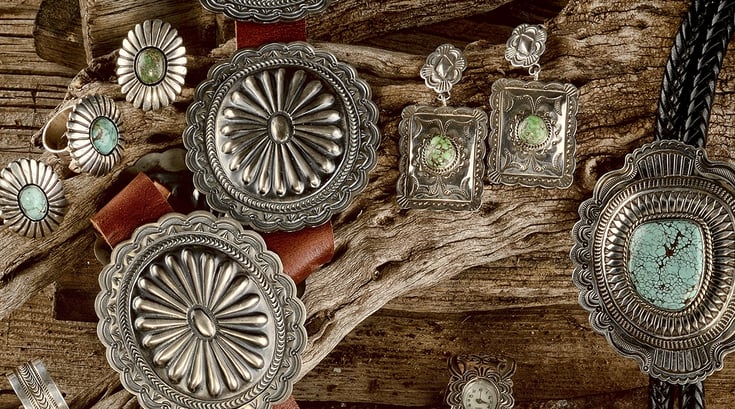 ONE-OF-A-KIND HANDMADE TURQUOISE CONCHO BELTS
◊◊◊