It may be coming in April, but it's still TUCSON TIME! We'll be heading to Arizona with lapidary turquoise, beads, handmade Native American jewelry, sterling silver charms and findings, fetishes, carvings, baskets and more for our wholesale shoppers. JOGS Gem & Jewelry show is normally our biggest show of the year and we are bringing our best!
General information
JOGS Tucson Gem and Jewelry Show is one of the leading Jewelry events in North America for all jewelry business professionals and one of the key jewelry markets in the world. Complimentary shuttle transportation, over 1000 free parking spaces, international food court, business and shipping services for JOGS attendees
April 7 - 18, 2021
JOGS Main Ballroom
Tucson Expo Center
3750 E. Irvington Rd.
Tucson, AZ 85714
Hosted by JOGS International Exhibits
10:00 AM – 6:00 PM
Last day 10:00 AM – 4:00 PM
WHERE IT'S ALL ABOUT THE TURQUOISE!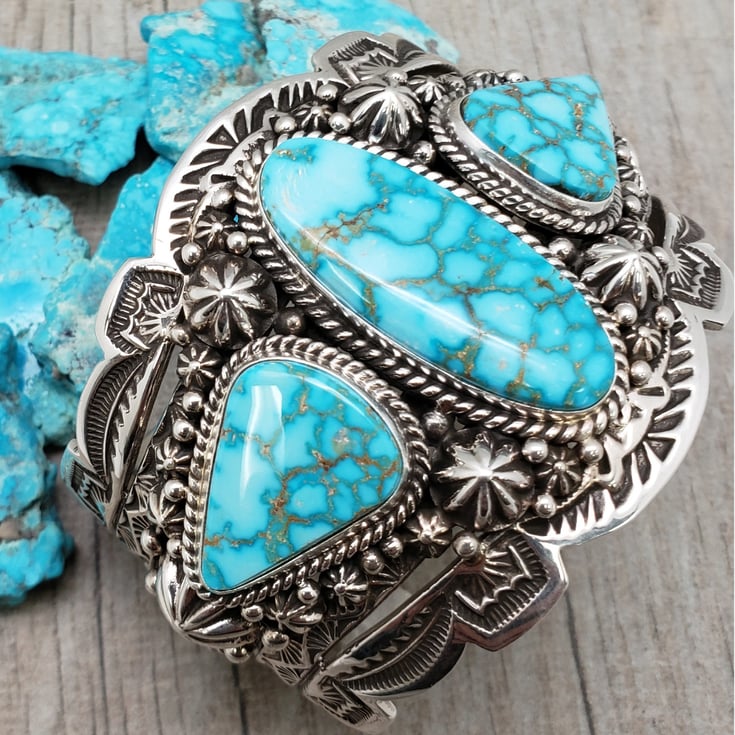 Sunwest Silver Co Inc is the industry's leading source for North American turquoise, and lapidary quality turquoise & stone from around the world, sterling silver charms & findings, and finished handmade jewelry created by the Southwest's finest Native American artisans. We have custom beaded jewelry lines, Liquid Silver jewelry lines, OxyBead© jewelry, and multi-stone & sterling lines. Contact us with any questions.
Sunwest Silver Co Inc- Albuquerque
(800) 771-3781
NATIVE AMERICAN HANDMADE JEWElRY
Shop the most popular styles in our collection of handmade Native American jewelry, Sunwest Jewelry, custom OxyBead© jewelry lines, Liquid Silver jewelry and Multi-Color lines. Sunwest has fostered relationships with local New Mexico artisans since 1972, allowing us to provide the industry with a broad selection of specialty and traditional handmade Southwestern style jewelry from artists like Arnold Blackgoat, Danny Clark, Philander Begay, Ella Linkin, Paul Livingston and other New Mexico favorites.
Lapidary quality Turquoise, minerals & beads
Our North American turquoise selection is one of the largest in the world, and Sunwest is proud to provide our artisans with stone directly from our own mines in the Southwestern USA, including our signature Carico Lake Turqouise, New Lander chalcosiderite and others. We also supply fine turquoise from around the world and will be bringing the hugely popular Egyptian, Mexican and Kazakhstan turquoise rough, cabs and strands for lapidary artists,
Check out our
Sunwest Turquoise Instagram
page for a peek at what you can expect to find at JOGS in bulk or small parcels. We will be bringing turquoise cabs, rough & beads as well as other lapidary stone and minerals to Tucson for manufacturers and jewelry makers.
LIQUID SILVER JEWELRY LINES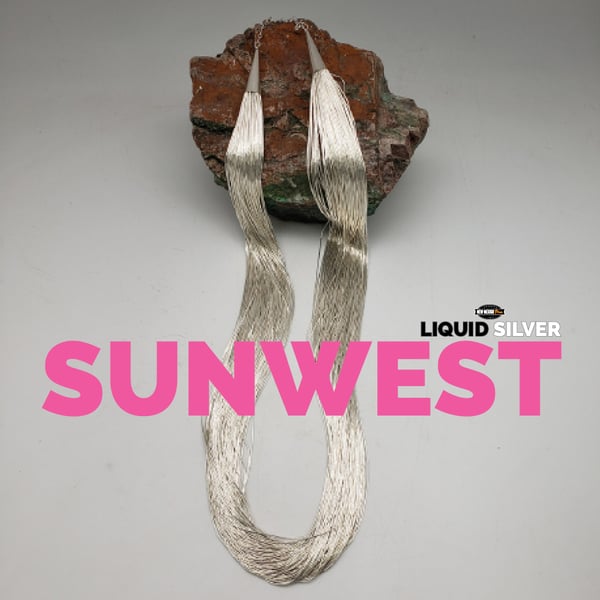 Liquid Silver is a Southwest-style accessory that never goes out of style. Our Liquid Silver Collection hosts a variety of different Liquid Silver jewelry creations, from traditional woven pieces to more modern and eclectic designs. Our Liquid Silver Tower Program offers includes counter-top or freestanding displays for your store, loaded with your choice of two jewelry style packages or customized options for your brand.
If you are not going to be in Tucson, contact Pam at PGautreau@sunwestsilver.com for more information or browse some of our popular liquid silver jewelry online.

A Southwest tradition, our sterling silver OxyBead© Collection is a finished or customized line for wholesale shoppers and includes necklaces, bracelets and earrings. Sterling alone or combined with turquoise, stone or shell, layered or stand alone, OxyBead01© jewelry continues to be a constant favorite.
sunwest CHARMS & FINDINGS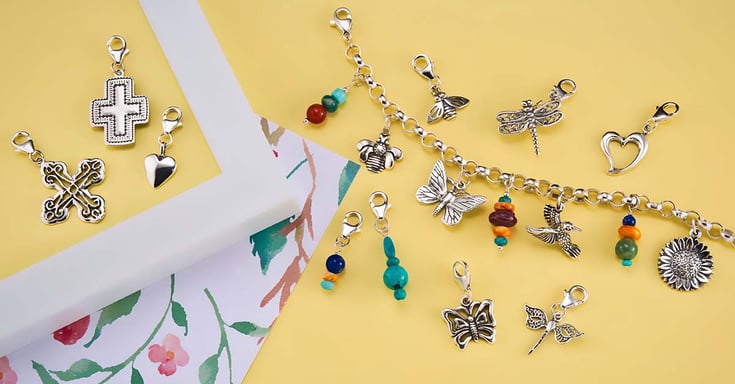 Made in the USA! We have over 5,000 styles of artisan created fashionable charms for memory keepers & jewelry makers alike. Shop trending charms, bracelets and traditional favorites. Our charms line includes Affirmations, Talking Tags, the Hartman Collection, Celtic sterling jewelry styles, earrings, toe rings and small sterling pendants.
Our jewelry findings selection offers a complete selection of unique styles for your creations including blanks, clasps, bezels, conchos and more in sterling, copper or brass.. Let's make something beautiful together!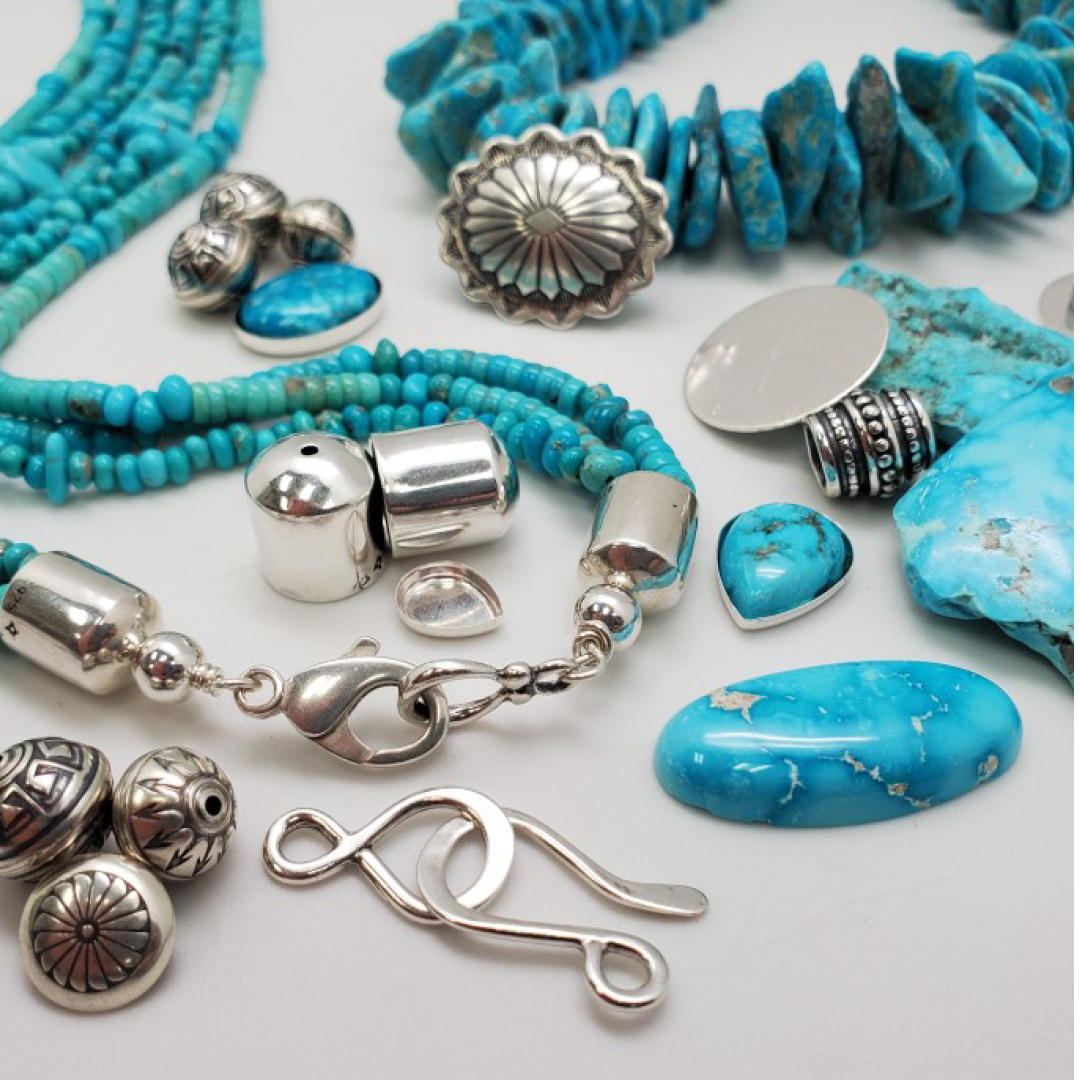 You can browse a selection of charms & findings online at Sunwest Charms for an idea of what you can expect to see in Tucson. Online orders must be placed by March 22, 2021 for shipping prior to the show.
We're looking forward to seeing you in Tucson!