Sunwest will be in Dallas for WESA this January with everything our wholesalers need for Spring collections and seasonal holiday products. Shop popular Santa Fe style turquoise jewelry, handmade in New Mexico by local Native American artisans. We'll be supplying Sunwest Jewelry lines as well and you will be able to browse all the newest wholesale only products for Spring.
WESA GEnERAL INFO
HOURS
Thursday — Saturday
8:30am — 6:00pm
Sunday 8:30am - 3:00pm

Wholesale Registration Required
Register for WESA
What To Expect in Dallas
1.Trending Turquoise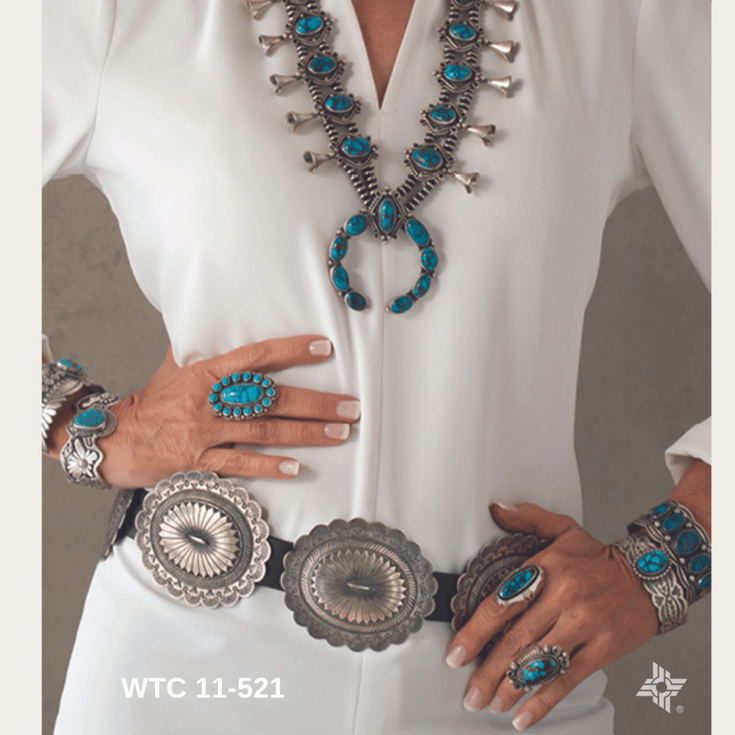 Egyptian Turquoise
Hard, natural Egyptian Turquoise continues to be a crowd pleaser. The bright dense blues and sultry reddish matrix have charmed the hearts of turquoise lovers everywhere. We have new handmade jewelry styles stocked for wholesale shoppers featuring familiar New Mexico artisans. We'll also have product lines available in Golden Hills Turquoise, the bright greens and blues of Sonoran Turquoises and our traditional favorites from the North American mines including handmade turquoise jewelry with Carico Lake Turquoise from Nevada, Kingman from Arizona and traditional collectors mines as well.
2.Fashion Concho Belts
Top sellers! We're bring our collection of stamped concho belts to Dallas. Manufactured by Sunwest in Albuquerque, New Mexico, this stylish fashion line has been flying off the shelves. Price point friendly fasionista favorites!
We'll also be bringing handmade sterling and turquoise concho belts for him or her, rodeo style bling and one-of-a-kind Southwestern style artisan handmade treasures for collectors and Legacy jewelry shoppers.
3.OxyBeads©, Turquoise Beads and Boho Bling
New Mexico style trends are stretching from shore to shore with a layered, western chic look that hasn't slowed down all year. Shoppers are combining turquoise beads and strands with silver Oxybead© jewelry, stunning handmade Navajo Pearls, finished pendants and bracelets for flowing, versatile style statements. We'll have our full range of sterling OxyBead© and turquoise beaded jewelry available, including necklaces, earrings and bracelets. Complete a seasonal collection and offer multiple price points.
Contact us if you have any questions about WESA January Market - we will see you in Texas!
Kevin@SunwestSilver.com or 1-800-771-3781